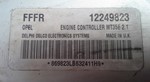 Update information about this Opel Meriva A Z16XEP Delco MT35E FFFR 12249823 - TUN E2.
Diagnosis of the catalyst is disabled. The oxygen sensor DK-2 is off. EGR is disabled.
Improved overclocking characteristics. Optimized fuel consumption.
Programming via the OBD-2 connector. (Galetto, KESS ....)
The file size is 512 KB.
No feedback yet